STRENGTHS
Quick Service
24Hh a day, 7 days a week; A warm and crunchy pizza is ready to eat in180 seconds; requires minimum maintenance and fulfills all regulations and requirements of safety hygiene and equipment certifications.
84 Pizzas stored
Pizza Self 24h Machine stores for a total of 84 pieces (42 of each type). The pizzas are pre-cooked and in a wood-fired oven and then stored at -8° C
Highest quality
Pizza Self 24h Machine takes just 90 seconds to serve up an excellent pizza as hot and crunchy as in a "Pizzeria".
Low Energy Consumption
High performance and low energy consumption thanks to its special oven (power absorption/ consumption, 220 V / 50/60 Hz Max 3 kW).
100% Personalization
Each machine can be personalized upon customer's request. Each logo can be designed up to the customer's discretion as to what they need.
Customer Support
WE provide Assistance and Professional Support for customers 24/7 all over the world The technical service is an important argument for our customer.
Where Pizza Self 24h Machine can be used?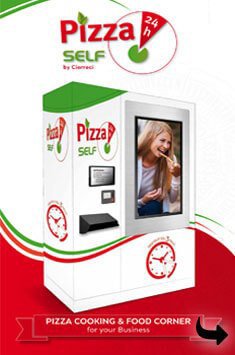 Leader

in vending machines for hot dishes

Feel's Free to contact Us for a no-obligation appointment.